Thursday, October 2, 2008 at 7:37 PM Posted by Admin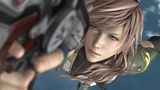 Final Fantasy XIII

Final Fantasy XIII is a role-playing game from the Final Fantasy series which, with no doubt, will become the most popular advanced role playing game created ever. The game was first announced at E3 2006, and even if Square Enix has stated that there is no confirmed release date yet, the game is planned to be in stores in Japan around 2009 on PlayStation 3.

Several new features will be introduced such as new equipment system, better IA control for characters, returning of some old concepts for the game along with a new battle system.

A playable demo will be available in March 2009 for those who will buy Final Fantasy VII : Advent Children Complete.

The game will also have online features.

The main character is Raitoningu, young woman with rose-blond hair.